| | | |
| --- | --- | --- |
| | | |
TRADITIONAL PALESTINIAN EMBROIDERY PATTERNS
Traditional patterns used in Palestinian embroidery are designs of geometric shapes, but also include designs which were most familiar to Palestinian women as impressions of their daily surroundings. These patterns symbolize good health, hope, prosperity and protection, among other attributes of positive beliefs. Depending on the region in Palestine, the patterns included representations of cypress tree, bunches of grapes, apple tree, cauliflower, cock, pigeon, rainbow, roses, birds of paradise, flower pot and extensive other such representations. Geometric designs were given such names as 'foreign moon', 'cow's eye', 'mill wheel', 'crab' , 'moon with feathers', 'old man's teeth', 'bachelor's cushion', 'the baker's wife', 'old man upside down' and other such creative and often humorous names. The pictures shown here include most of the traditional patterns: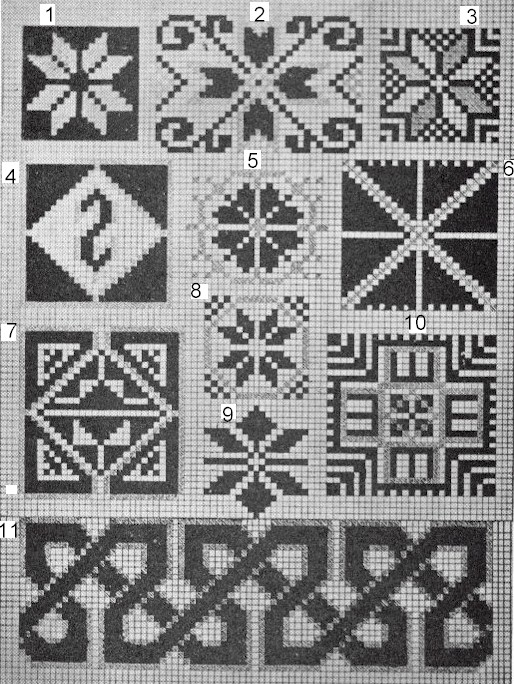 1- Moon of Bethlehem
2- Crab
3- Mill Wheel
4- Moon of Ramallah
5- Damask Rose
6- Foreign Moon
7- 'Garden' Rose, or Rose in Bud
8- Cow's Eye
9- Wide Open Eye
10- Moon with Feathers

11- The Snake and the Serpent

TREES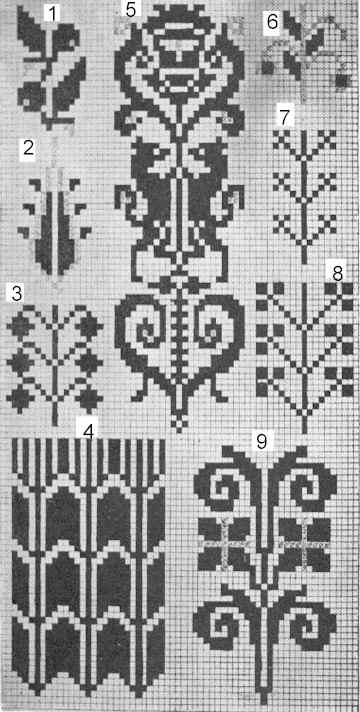 1- Hawthorn
2- Cypress
3- Bunches of Grape
4- The Tall Palms
5- Tree with Lions
6- The Apple Tree
7- The False Tree
8- The True Tree
9- The Tree of the Scorpions
THE FLOWER POT AND THE KOHL BOTTLE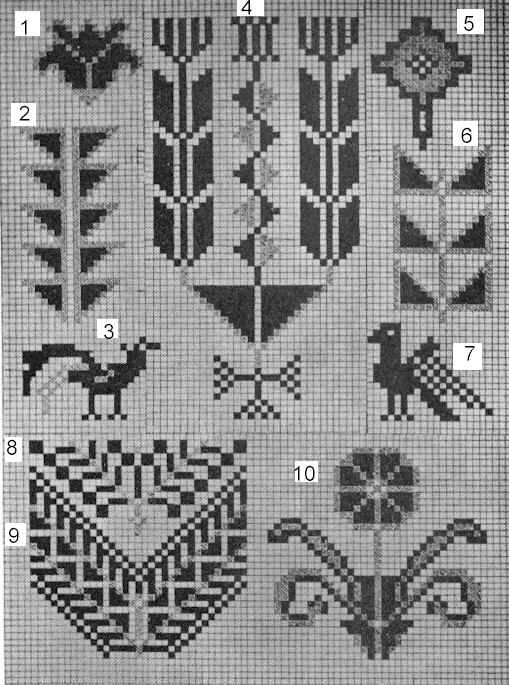 1- Cauliflower
2- Key of Hebron
3- Cock
4- Kohl Bottle
5- Four Eggs in a Pan
6- Ladder
7- Pigeon
8- Rainbow
9- Foreign Rainbow - Arch
10- Flower Pot
THE SWANS AND OTHER MOTIFS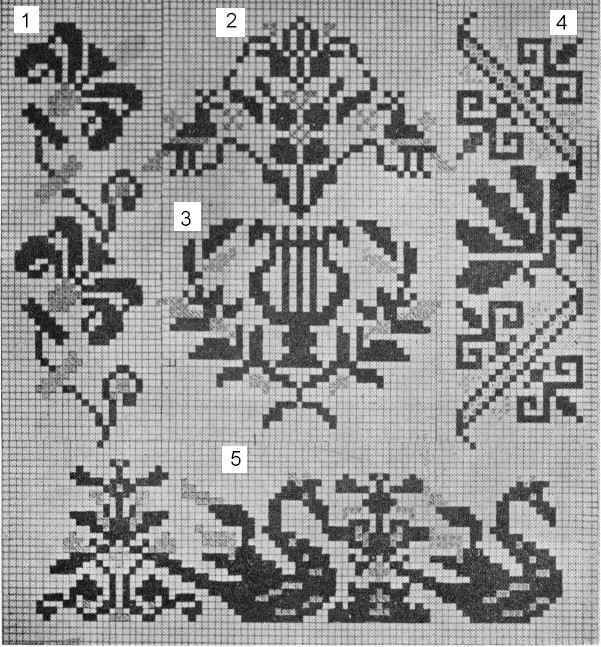 1- Lilies
2- Roses and Birds
3- The Pool or Harp
4- Border of the Hand
5- The Duck's; The Geese; The Swans.
BROAD BORDERS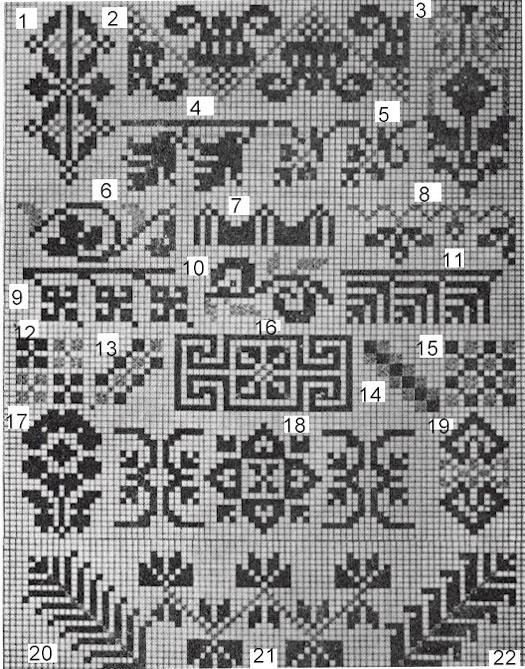 1- Wide Open Eye
2- The Crowns
3- The Muscles (Dragon Fly)
4-5- Snowflake Borders
6- Turning Round
7- The Bald Palms
8- The Necktie
9- Snowflakes
10- Snails
11- Feathers
12- Chick Peas & Raisins
13- Chick Peas & Raisins
14- Chick Peas & Raisins
15- Chick Peas & Raisins
16- The Road of Egypt
17- Thirteen
18- The Frogs in a Pond
19- Heart (or Locket)
20- Single Spear
21- The Pretty Carnation
22- Double Spears
NARROW BORDERS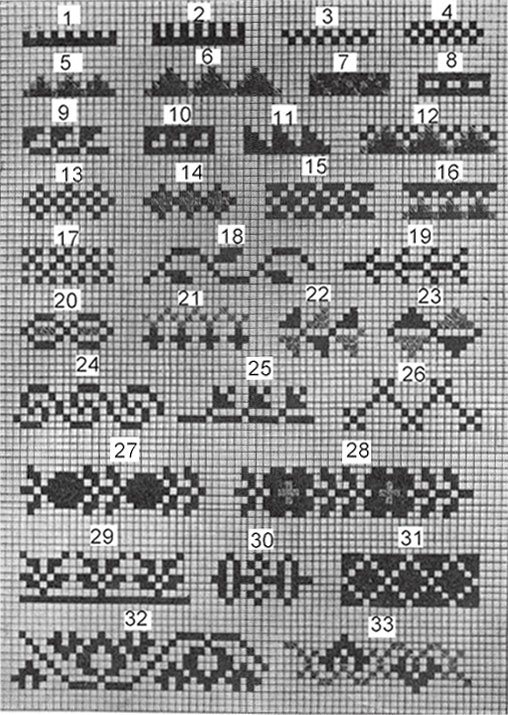 1- Old Man's Teeth
2- Old Man's Teeth
3- Stick
4- Stick
5- Saw
6- Saw
7- Stick
8- Bachelor's Cushion
9- Carnations
10- Carnations
11- Carnations
12- Saw
13- Eastern One
14- Pegtops
15- The Baker's Wife
16- Saw and Old Man's Teeth
17- Zigzag
18- Little Ears of Corn
19- Little Ears of Corn
20- The Bakers' Wife 21- Cockscomb 22- Old Man Upside Down 23- Apples 24- Snail
25- Chicken's Feet 26- Zigzag 27- Watermelons 28- Flowers 29- Flower Pot
30- Name not Known 31- The Baker's Wife 32- Pattern of the Heart 33- Zigzag
© 2000 Prepared by HBL - All Rights Reserved