EMBROIDERED PIECES
DRESSES (Updated)
PALESTINIAN WEDDING (New)
SCENES FROM JERUSALEM (New)
PILLOWS
OTHER PIECES (Updated)
EXCERPTS FROM MIKE'S BOOK
LINKS TO OTHER SITES
Personal Injury Lawyer (Ramzy Ladah)
ARMENIAN EMBROIDERY
LADAH FOUNDATION
LADAH WEB SITES
AL-BUSHRA WEB SITE (New)
COMMENTS
ACKNOWLEDGMENT
SIGN MY GUESTBOOK

VIEW SLIDE SHOW (New)
PLANETARABIA
THE PALESTINIAN INITIATIVE
Objective
This site was created to support the objectives of the Ladah Foundation, a non-profit, tax exempt charitable organization.
The objective of this site and those who created it has been to promote Palestinian culture, especially the art of Palestinian embroidery. Traditional Palestinian cloth articles, in the form of women's dresses, tablecloths, pillow cases, table runners, bed spreads and other similar items, are made of various color cloth materials embroidered by hand.
Until recently, Palestinian embroidery was practiced by most women living in the countryside. After completing their house chores, country women gathered in groups, chattered news of the community and practiced the art of Palestinian embroidery, al-tatreez. Older women made cloth articles for their daughters or for their son's dowry, and young women worked on articles for themselves and their families or for their future family homes. After the lives of the Palestinians were turned upside down as a result of their political misfortune, and after the exodus of most Palestinians from their homes, villages and cities, first in 1948 and second in 1967, the art of embroidery became a luxury which many Palestinian families could not afford ( Click Here to read about a personal account of exodus from Palestine.) As the struggle of the Palestinians for their individual and collective survival intensified, the practice of Palestinian embroidery by individuals and families faded away more and more, almost to extinction.
Thanks to the many non–government organizations (NGOs), the various programs and trade schools which they organized in refugee camps included the craft of Palestinian embroidery. Many independent Palestinian arts-and-crafts groups and associations also taught and encouraged this form of Palestinian art. One such notable group was the Ramallah Handicraft Cooperative Society which was formed in 1954 and to whose publications we give credit for some of the design plates shown in this website. The programs and schools did not only teach the art of embroidery to young Palestinians in refugee camps, but also distributed the articles which were by-products of training, for donations and commercially. Our family visited a few of the schools which taught embroidery in Palestinian refugee camps and bought a few embroidered articles from them for our home; these articles are included among the articles exhibited in this site. These programs, schools and centers, for al-tatreez, bear the primary responsibility for preserving the art of Palestinian embroidery.
It is our hope that this web site will motivate some, anyone, Palestinian or not, to take interest in this delicate art of Palestinian embroidery.

Overview of Palestinian Embroidery
Only one kind of stitch is used in making Palestinian embroidered dresses but the patterns and colors used for these dresses vary. The color combinations of the embroidery, the design and the color of the cloth on which the embroidery is made, have specific connotations as to the specific region in Palestine where the article was made or the status of the person owning or wearing the article ( in the case of women's dresses, called thobes, the status may be a new bride, an older mother, a pregnant wife, etc.) Also, one can determine where a Palestinian woman comes from through the patterns of the embroidery on her dress; almost each Palestinian town has its own unique pattern. Palestinian embroidery is therefore more than just an art or a craft; it is an integral part of the Palestinian geographical and cultural landscape.
While many of the patterns used in Palestinian embroidery are designs of geometric shapes, they also include designs which were most familiar to Palestinian women as impressions of their daily surroundings. Depending on the region in Palestine, the patterns included representations of cypress tree, bunches of grapes, apple tree, cauliflower, cock, pigeon, rainbow, roses, birds, flower pot and extensive other such representations. Geometric designs were given such names as 'foreign moon', 'cow's eye', 'mill wheel', 'crab' , 'moon with feathers', 'old man's teeth', 'bachelor's cushion', the baker's wife', 'old man upside down' and other such creative and often humorous names.
Palestinian embroidery did not, with rare exceptions, include patterns with any religious symbols. While the majority of Palestinians are Moslems, there has been no obvious Islamic representations in embroidery as there has been in other forms of art such as calligraphy. Because Christian minorities in Palestine have enjoyed essentially full societal partnership with the Moslem majority, Christian minorities did not find it necessary nor desirable to separate themselves from their Moslem brothers as did Christians in some other Arab countries, nor deliberately make themselves stand out as non-Moslems. In Palestinian society, religion was a private matter between 'man and his God'. A phrase which was very popular in Palestinian society during all of the twentieth century was "Religion is for God, but the country is for everyone" (Aldeenu Lillah Walwatan Liljamee') which meant that no one wanted the differences in religious beliefs to impact societal relations among Palestinians. Therefore, Palestinian Christians and Moslems did not use embroidery as a form of public display to separate them from each other. Nonetheless, Christian minorities have made embroidered articles with Christian representations for use exclusively in their homes or for the exclusive use in their churches for religious rituals and ceremonial purposes.
Our family has often experienced, and heard stories from our ancestors about, harmony between Moslems and Christians in Palestine. Click Here to read more about an account of religious harmony from as far back as the Ottoman rule in Palestine.
Arabs, both Christians and Moslems, and Jews lived in harmony in Palestine until the Zionist movement came into being and started to threaten the livelihood, hopes and existence of the Arab population. Click Here to read about one story of an Arab family and a Jewish family.

The following is a quotation from 'Palestinian Embroidery' by Shelagh Weir and Serene Shahid, published by British Museum Publications Ltd., 1988:
"Cross-stitch is very simple, but there are various rules to observe for the best results. Make sure the beginning and end of your thread is well-secured. Do not use a knot or the lump will show. Start by inserting your needle leaving a short end at the back of the fabric which you work over with your first few stitches, making sure it is firm before continuing. When you start the next new thread, run the threaded needle under several of the stitches you have already made, then oversew it securely through the back of the last stitch before proceeding with the embroidery. When you finish a thread, pass it through to the back of the fabric, then sew it firmly over four or five stitches. Cut the end neatly."
"You will do some rows of embroidery horizontally, and others vertically and diagonally. You may find it easier to do the cross-stitches in different ways. When working horizontally, the easiest way is to work a row of stitches by doing one set of arms on one direction, and crossing them in the other. This is also more economical with thread. But if you need to do a vertical or diagonal row, you may find it easier to cross each stitch as you go along. The diagrams below show the difference between these techniques. Once you get started you will work out the method which best suits you."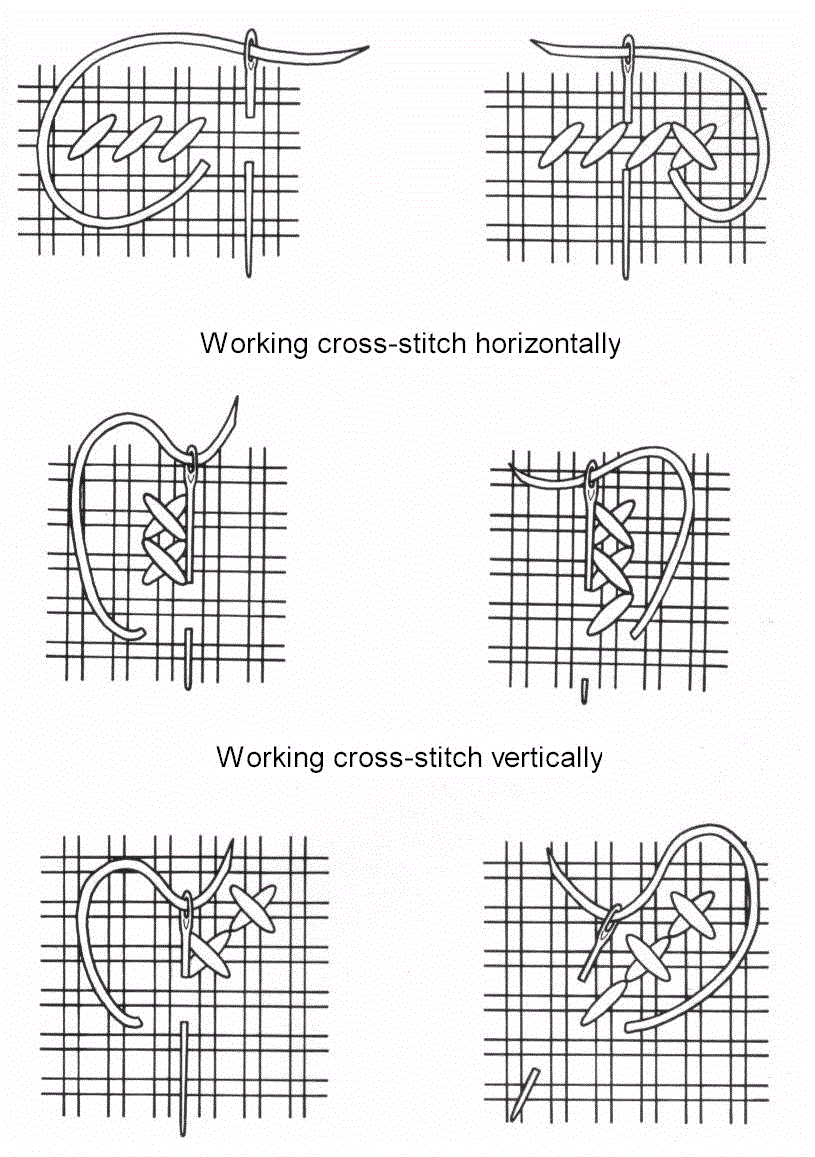 Working cross-stitch diagonally

These are different designs that you can try to practice after you have mastered the basic stitches above. You can click on the link below to see different designs and an explanation of each design.

The following six pattern plates are from "A Study of Palestinian Embroidery" written in 1935 by Grace M. Crowfoot and Phyllis W. Sutton. These plates are a fairly complete collection of the traditional patterns which have been in use throughout the years, passed on from mothers to their daughters with their wedding dresses. The local names add interest and attest to the imagination and sense of humor of the women. They are included chiefly for their historic and artistic value but could be of value to the modern woman who wishes to enjoy them in her own home on articles she can use and in colors she would like. Although red and black are the traditional colors, other color schemes can be worked out satisfactorily.
If you like to see those traditional patterns, click on the link below.

The Ladah Foundation extends special thanks to all the sons and daughters of our parents, Salim Ibrahim Ladah and Lydia Andoni Bahu, for contributing embroidered articles and information to complete this site. Also, thanks to our children Lydia, Salim and Ramzy Ladah for their ideas and editorial information.

This site is in the process of being developed and will continue to be revised and improved. Please send any comments, corrections or additions, through the email procedure you normally use, to the email address below, or click on the email link below to send your email message if your browser is set up. Also please sign our guestbook and write any comments you may have.
mailto: ladah@hotmail.com
Last updated on June27, 2022
2000 Prepared by HBL - All Rights Reserved